CASIO FX-350MS CALCULATOR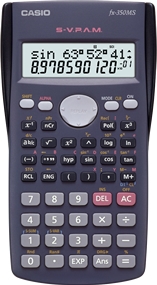 The Casio fx-350MS is a non-programmable calculator designed for school and lab use (click here to see our simplified online version) which has proved very popular around the world for many years. First lauched by Casio in 2003, it's part of their MS Series of V.P.A.M. (Visually Perfect Algebraic Method) calculators.
V.P.A.M. is a system used by Casio for entering mathematical expressions into a calculator. It takes into account the precedence of mathematical operators and shows functions, operators and symbols on the screen as they are entered, allowing calculations to be entered and performed as they are normally written.
This calculator has become popular due to a number of advanced features. In addition to the normal calculator features, it offers many functions designed for school and lab use:
240 Functions.
2-Line Display.
Multi-replay function.
Fraction calculations.
Combination and Permutation.
Statistics.
9 variable memories.
Button-type battery.
Clearly, this series of Casio calculators is very likely to remain popular for many years to come.
If you need instructions or more information about using this calculator, please click here.