FINANCIAL PROGRAMMABLE CALCULATOR
INSTRUCTIONS
This calculator can be used like a normal hand held financial calculator. It is based on the famous Hewlett-Packard 12C programmable financial calculator used by a great many financial professionals around the world.
Enter your variables by clicking on the calculator buttons on the screen.
As an alternative, you can enter some values with your keyboard. See below for details.
Please click here if you need instructions for using this type of advanced financial calculator.
You may also like to try these calculators: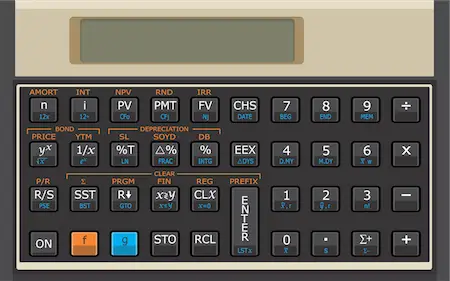 NOTES
Here is a list of the keyboard shortcuts that can be used to enter some values instead of clicking the buttons on the calculator above.
Keyboard
Function
C
Clear (CLx)
0 1 2 3 4
5 6 7 8 9
Insert corresponding digit
.
Insert decimal point
/
Divide
*
Multiply
-
Subtract
+
Add
%
Percent
F
Gold prefix key (f)
G
Blue prefix key (g)
R
Recall key (RCL)
S
Store key (STO)
Z
Delete last character
Enter or Return
Enter the input